Often times, construction contractors can have a hard time finding the right equipment for their projects; whether the difficulty is with finding the right machines, finding and affordable machine, or even just finding one that is available to rent.
Can't Find a Telehandler that Fits Your Price Range?
This is where Above All Equipment Sales steps in. We know that is can be a struggle to find reliable, name brand telehandlers for your project. Finding a decent telehandler to rent is stressful if there aren't any available in your area. And buying a new telehandler can be way too expensive; some go for over $100,000.
Above All Sells Reconditioned Telehandlers
This is why we specialize in selling reconditioned telehandlers. A reconditioned name-brand telehandler is just as reliable as a new telehandler but for a fraction of the price. We sell telehandlers by Genie, JLG, Skytrak, Terex & more.
We can help you find the telehandler you need for your reach, your weight capacity, what cab you want, all those factors that you are looking for. It's just about finding the right piece of equipment and finding it for the right price and getting it out to you in a timely manner.
Why Choose Above All?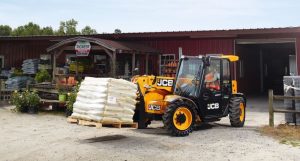 Most of the time, our customers know what they are looking for, but we can help you find exactly what you need for a price that won't break the bank. And the best part is that once you have your telehandler, it's yours. You no longer have to worry about finding one for the next job site.
If you are looking for heavy machinery for your construction site, or anything else where you need to move heavy objects, contact us at Above All Equipment Sale. We can help you find the best telehandler for the best price, anywhere in the United States.