Reconditioned Genie GS-3232 Scissor Lift
The Genie 3232 is a compact and versatile scissor lift designed for indoor and outdoor applications. With a maximum platform height of 32 feet, it provides efficient and safe access for maintenance and construction tasks. Its electric power source and narrow design allow for maneuverability in tight spaces, making it a popular choice for various industries needing elevated access equipment.
Description
2023 Reconditioned Genie GS-3232 SCISSOR LIFT FOR SALE
2023 Reconditioned by Genie Factory Trained Techs
2015 Core
Warranty
New: Batteries/Tires/Control Box/Paint/Decals/ANSI/24V Motor and much more!
Los Angeles, CA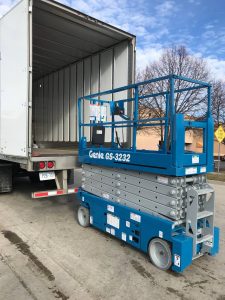 OVERVIEW
Zero-emission electric operation
39 in (1 m) roll-out platform extension
High angle steering for excellent maneuverability
Folding rails half-height swing gate standard on GS-3232
Universal smart charger
Proportional controls for lift and drive functions
On-board diagnostics for easy troubleshooting
Multiple disc brakes provide smooth deceleration
Emergency stop at both platform and ground controls
Solid, non-marking tires
AC power to platform
GENERAL SPECIFICATIONS
Working Height – 38 ft (9.92 m)
Width – 2 ft 8 in (0.81 m)
Outside Turning Radius – 7 ft (2.13 m)
Lift Capacity – 500 lb (227 kg)
Grade ability – 25%
Introducing the 2021 Genie GS-3232 Reconditioned Scissor Lift
The 2021 Genie GS-3232, A high-quality and dependable aerial work platform that has undergone an extensive refurbishment by Genie Factory Trained Technicians. This exceptional scissor lift is now available for sale, offering a wide array of notable features and benefits that make it an ideal choice for a variety of aerial work applications.
Key Features:
Top-Quality Reconditioning: This 2021 Genie GS-3232 Scissor Lift has been meticulously reconditioned by Genie Factory Trained Technicians to ensure it meets the highest standards of performance and safety. This comprehensive refurbishment process restores the machine to its peak condition, making it a reliable and trusted solution for your elevated work needs.
Updated Core: While the core of this scissor lift hails from 2015, it has been revitalized to operate like a much newer model. This combination of a solid core with modern refurbishments provides you with a cost-effective solution that delivers dependable performance in various work environments.
Comprehensive Warranty: This reconditioned scissor lift comes with a warranty, providing you with peace of mind and protection for your investment. It underscores the confidence in the machine's reliability and the quality of the refurbishment.
Extensive Upgrades: The list of new components and upgrades is impressive, including new batteries, tires, control box, paint, decals, ANSI compliance, 24V motor, and much more. These updates ensure that the scissor lift operates at its best and adheres to the latest safety standards.
Nationwide Delivery: Located in Los Angeles, CA, this scissor lift is accessible to buyers nationwide. The availability of nationwide delivery simplifies logistics, allowing you to conveniently obtain this versatile machine no matter where your job site is located.
Competitive Pricing: Priced at $18,750, this 2021 Genie GS-3232 reconditioned scissor lift offers excellent value for your investment. It provides the reliability, safety, and performance you need at a competitive price point, making it a cost-effective choice for businesses looking to enhance their aerial work capabilities.
In summary, the 2021 Genie GS 3232 Reconditioned Scissor Lift is a top-tier, factory-refurbished aerial work platform that combines the trusted Genie brand with modern reconditioning. With its comprehensive warranty, extensive upgrades, and competitive pricing, it presents an outstanding opportunity for businesses seeking a dependable and cost-effective solution for elevated work. Don't miss out on this offering – contact us today to learn more, schedule a viewing, or secure your purchase.
Related Videos
Introducing the 2023 Skytrak 10054 Telehandler on Sale Now
A Nearly-New JLG Da Vinci 1932 Now on Sale
2015 Skytrak 6036 Telehandler for Sale
Unlock New Heights in Construction with the GS 3232 Scissor Lift
Get Ahead with the SkyTrak 6036 Telehandler: For Sale Now
Genie GS-4047 Scissor Lift for Sale
2023 Genie GTH 5519 Telehandler for Sale
Get to Know the Genie GS-2632 Scissor Lift: For Sale Now
2001 Gradall 534D9 45 Telehandler for Sale