2016 Genie Z30/20-RJ Boom Lift
The Genie Z30/20N RJ is a versatile articulating boom lift designed for efficient aerial access in various work environments. With a working height of approximately 36 feet and horizontal outreach of around 20 feet, this lift provides flexibility to reach over obstacles and access hard-to-reach areas. Powered by electric batteries, it offers clean and quiet operation, making it suitable for indoor applications. Its compact design and rotating platform enhance maneuverability, especially in confined spaces. Equipped with user-friendly controls and safety features such as tilt sensors and emergency lowering systems, the Z30/20N RJ ensures a secure and efficient work environment for operators.
Description
2016 Genie Z30/20N-RJ Articulating Boom Lift for Sale
2016 Genie Z30/20N-RJ Scissor Lift
30′ / 36″working height / New Batteries (8)
5 in stock 240-690 hours
Kansas City, MO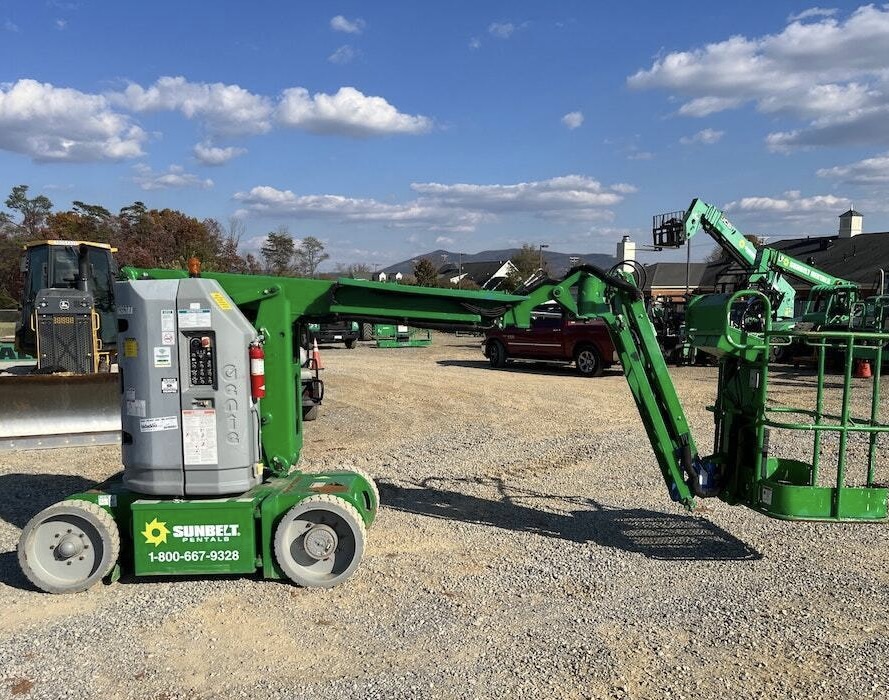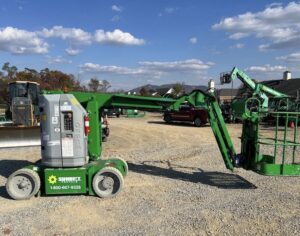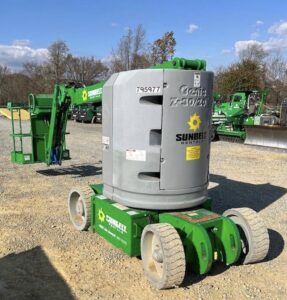 Genie GS-3232 Scissor Lift:
Platform Capacity:

The GS-3232 typically has a platform capacity of up to 500 lbs (227 kg), allowing operators and tools to be elevated to the desired height.

Working Height:

This scissor lift is known for its working height, which is the maximum height it can reach while in use. The GS-3232 usually offers a working height of around 38 feet (11.75 meters).

Platform Size:

The platform dimensions can vary, but it is generally spacious enough to accommodate at least two people, along with tools or materials. This is important for efficiency and ease of use.

Power Source:

The GS-3232 may be powered by electric batteries, making it suitable for indoor use where emissions and noise need to be minimized. Electric scissor lifts are often preferred for their environmentally friendly operation.

Terrain Capability:

Some models are designed for both indoor and outdoor use, featuring non-marking tires suitable for various floor surfaces. Rough-terrain capabilities may be available for outdoor applications.

Controls:

The lift is equipped with user-friendly controls on the platform, allowing the operator to maneuver the lift smoothly to the desired height. Some models may also have proportional lift and drive controls for precise positioning.

Safety Features:

Safety is a priority, and scissor lifts like the GS-3232 typically come with features such as pothole protection, tilt sensors, and an emergency lowering system to ensure the well-being of operators.

Compact Design:

The scissor lift is designed to be compact, making it suitable for maneuvering in tight spaces, such as aisles or narrow work areas.

Outrigger Stabilizers:

Some models may have outrigger stabilizers for additional stability when the lift is elevated to higher heights.
Related Videos
Introducing the 2023 Skytrak 10054 Telehandler on Sale Now
A Nearly-New JLG Da Vinci 1932 Now on Sale
2015 Skytrak 6036 Telehandler for Sale
Unlock New Heights in Construction with the GS 3232 Scissor Lift
Get Ahead with the SkyTrak 6036 Telehandler: For Sale Now
Genie GS-4047 Scissor Lift for Sale
2023 Genie GTH 5519 Telehandler for Sale
Get to Know the Genie GS-2632 Scissor Lift: For Sale Now
2001 Gradall 534D9 45 Telehandler for Sale